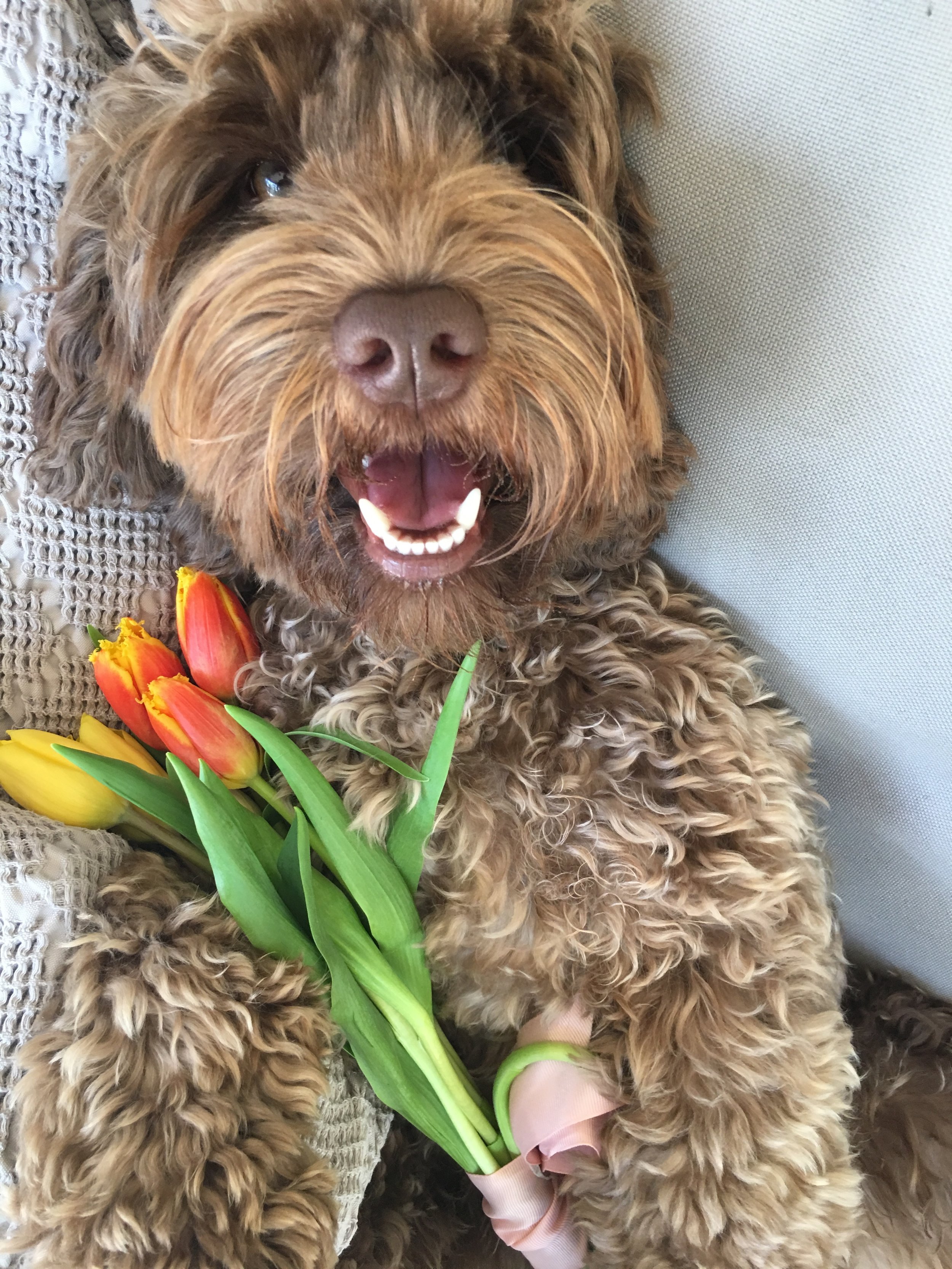 Australian Labradoodle History
In the 1980's, The Guide Dog Association implemented a breeding and research program for an allergy friendly Guide dog. This was the start to the Australian, multi-generation Labradoodle as we know it today. This Australian Labradoodle started out as a cross between a Labrador Retriever and a Standard Poodle. Dogs from the Australian cross were bred to each other for several generations, to create what is also known as "multi-generation" Labradoodles.

The Australian Labradoodle has been developed over near decades. The founders of the Australian Labradoodle, Tegan Park and Rutland Manor, infused several other breeds into the early generation lines of their Labrador Retriever / Poodle crosses, to achieve the consistency in temperament and coat that we have today. The infused breeds include the Irish Water Spaniel, Curly Coat Retriever as well as the American and English Cocker Spaniel. Dogs from these infusions have been bred together to continue the Australian, multi-generation lines.

The Australian Labradoodle is much more likely to be low to non-shedding and allergy friendly than other types of Labradoodles, such as the first generation Labrador Retriever / Poodle crosses (F1), or first generation crosses bred back to Poodles (F2). Even when the Labrador Retriever / Poodle crosses are bred for several generations, the result is not an Australian Labradoodle, as the other foundation breeds are not there to enhance their basic qualities. The true Australian Labradoodle is the result of many successful generations of careful breeding. The result is a healthy, well tempered dog with a low to no shedding allergy friendly coat.
Australian Labradoodles are very loving, social, highly trainable and excellent companion dogs with majestic beauty that compares to no other. Their eagerness to please and smart, soulful nature make them perfect for therapy work or a perfect family pet.
WHEN CAN WE MEET OUR PUPPY
Many people ask if they can see or play with our puppies when they are tiny babies. There are several reasons why we do not let anyone around the puppies between birth and 6 to 7 weeks and all those reasons are to protect the puppies.
Like a new baby, the opportunity for young pups to pick up infectious diseases is increased with all new contacts. Their immune systems are building, so at this time, the moms and pups live in whelping nests which are separate from all outside traffic. Most illnesses and diseases are innocently carried on people's shoes and clothing. Entire litters of puppies can be wiped out within 48 hours by the puppy killer parvovirus. This disease could be picked up unknowingly by people in a school yard, a park, or on a sidewalk - and this is only one disease. We cannot risk exposing our dogs and your puppy to diseases that could destroy them.
It is extremely stressful for the mother dog to have strangers visit as she is caring for her litter. This in turn will put stress on the new born pups. Remember, you are only one of many people who want to adopt a puppy, not including everyone else who "just wants to peek at the new babies." If we allow everyone to see, touch, or spend time with the new pups, the mom's routine would be disrupted: her eating and caring for pups and even her ability to produce enough healthy milk for them could be at risk.
STANDARD: 21" TO 24" The "Ideal" size for a standard female is 21 to 23 inches and for a male 22 to 24 inches. Weight range tends to be 50 to 65 pounds.

MEDIUM: 17" TO 20" The "Ideal" size for a medium female is 17 to 19 inches and for a male 19 to 20 inches. Weight range tends to be 30 to 40 pounds.

MINIATURE: 14"TO 16" The "Ideal" size for a miniature is 14 to 16 inches with no correlation between height and sex of the miniature Australian Labradoodle. Weight range tends to be 16 to 25 pounds
Body: Height to length ratio should be 10 to 12 (being slightly longer in leg than body) but still appearing square and compact. Shoulders should have good angulation with firm elbows held close to the rib cage. Hindquarters should be of medium angulation with short strong hocks. Top line should remain level with strong loin and level croup. Flanks should rise up from a brisket set just below the elbows, but should not be excessively deep. Ribs should be well sprung but not barreled. Overall, the dog should appear square, be balanced, athletic and with good muscling.
The Breed Standard of Excellence colors are:
Apricot/Gold, Red, Black, Silver and Blue - must have black pigment
Caramel, Chocolate, Cafe', Parchment and Lavender - must have rose pigment
Chalk (appears white but when compared to a true white it is a chalky white) - may have rose or black pigment
Cream and Apricot Cream (all shades and combinations of cream shades are acceptable) - may have rose or black pigment
Caramel: A rich Gold/Apricot very much the color of its namesake - caramel through to a deep red - must have rose pigment.
Red: A solid, even, rich red color which should have no sprinkling of other colored fibers throughout the coat. A true Red must not be lighter at the roots than at the tips of the coat. Red can fade somewhat with age, and senior dogs showing paling of coat should not be penalized.
Apricot/Gold: The color of a ripe apricot on the inside. A true Apricot must not be lighter at the roots than at the tips of the coat. It can come in varying shades and may fade as the dog grows older. Senior dogs should not be penalized for paling of coat color.
Blue: A dark to medium smoky Blue. Blue also belongs to the Rare Color Group. Blue dogs are born Black but will have Blue skin and undertonings at a young age. Any other color throughout the Blue is undesirable.
Silver: Born Black but will have more of a grey skin and will develop individual silver fibers at a young age. Silver dogs can take up to 3 years to color out and become a beautiful smoky grey through to a light iridescent platinum and varying shades in between at adulthood. Uneven layering of color in the silver is normal.
Chocolate: Dark and rich, born almost Black, they maintain a dark chocolate throughout their lifetime. Color should be even. Any other color throughout the Chocolate is highly undesirable. Chocolate belongs to the Rare Color Group.
Cafe': Born Milk Chocolate of varying shades, and have the same gene as the silver dogs, often taking up to 3 years to fully color out to multi shades of chocolate, silvery chocolate and silver throughout. When given plenty of time in the sunshine, they develop stunning highlights.
Lavender: A Definite, even smoky lavender chocolate, giving almost pink/lilac appearance. Lavender dogs are born Chocolate and can be difficult to distinguish at a young age. Any other color throughout the Lavender is highly undesirable. True Lavender belongs to the Rare Color Group.
Parchment: Born Milk Chocolate, will pale to a smoky creamy beige. Paling usually starts from an early age often as early as 6 weeks. As adults they can be mistaken for dark smoky Cream from a distance. Parchment belongs to the Rare Color Group.